A decade of delivering Signagelive Digital Signage to 900 pharmacies for Healthpoint Technologies
Introduction 
Healthpoint Technologies Ltd, is the owner-provider of Healthpoint TV (a digital signage offering) to primarily the community pharmacy market, and has worked with Signagelive and its content management system for nearly 10 years.  
The company has over seventy years experience in the community pharmacy market and its current MD, John White, is both a pharmacist and previously owned a pharmacy. The company Sales Director, George Baxter, has a vast range of business experience in the technology field and has been with Healthpoint for over seventeen years.
Tell us a little about how you are using Signagelive? 
Healthpoint Technologies Ltd itself has been established in the UK for twenty years – initially promoting a touchscreen health information but now exclusively digital TV in the form of internal and window screens. 
We have provided digital screens with content to nearly 900 pharmacies in the last decade. Signagelive and the capabilities of their CMS has been critical in delivering this network.
What were the reasons for implementing a digital signage network? 
Head of Installation for Healthpoint, Jon Cooke, has overseen the entire roll-out program and is delighted that Signagelive have partnered with LG to have the Signagelive software already installed in their System-on-Chip webOS models. This means that the use of a media player is not required – plus the fact the playlist is not streamed, thus occupying bandwidth, but is held locally and can be updated quickly and easily.
How have objectives changed in recent years? 
In a rapidly evolving health care market Healthpoint TV has experienced unprecedented growth in the last three years, because the emphasis in community pharmacy has changed from a business heavily dependent on NHS prescription income, to one that is providing a wide range of both NHS and Private clinical services to customers. 
With the severe cuts in the profitability of NHS dispensing instituted by a series of governments over the past 15 years – the community pharmacy market has had to take on these clinical services and increase counter sales to counteract the loss of income.
These services range from smoking cessation clinics, ear wax removal, flu jabs, travel vaccination and asthma clinics. 
How has Signagelive helped you with the changes? 
This change has had severe consequences on the marketing of community pharmacy. From a business that previously did not have to market themselves, they have had to embrace websites, social media and new advertising channels. The answer for many pharmacies to the last of these requirements is Healthpoint TV.
Thanks to our Head of Content, Melanie Baxter, we are able to deliver specific, high-quality and tailor-made content to all our customers. This content reflects both the services the customer wishes to promote and the products that will drive sales. 
Healthpoint customers share their experiences  
Scotland has led this transformation with the introduction from the 1st April 2020 of an initiative where community pharmacy is the first point of contact in primary care for patients. This is a radical change from that of the GP:
Dears Pharmacy are delighted with the installation of Healthpoint TV across all their ten pharmacies. It is a great way to promote all our services and retail offers in our pharmacies. There is great support every step of the way.
Mahyar Nickkho-Amiry, MRPharmS Managing Director & Superintendent Pharmacist, Dears Pharmacy & Travel Clinic Edinburgh
We have installed Healthpoint TV in our pharmacy, it has helped send important messages to our community, help promote new services and products in a very professional and clinical manner. One of the best investments I have made!
Shahzad Aziz, Bsc (Hons) Owner, Newington Pharmacy Edinburgh
In Ireland, although pharmacies are not so far advanced down this road of change, there are progressive pharmacists already embracing the new challenge:
From the moment I contacted John I knew I had the solution I was looking for, with the knowledge, expertise and team to deliver impactful messaging in the pharmacy. The screens add sales too, no question.
Eoin Gorry, Owner, Bridgetown South, Bridgetown, Co. Wexford, Ireland 
In Wales, a growing number of pharmacies are embracing the Healthpoint TV concept:
We are extremely pleased with our new Healthpoint TV, which has attracted considerable attention! It's great that we are completely in control of the content and can easily change the offers and services we televise.
Huw Evans, Owner, Newbury Pharmacy Mumbles, Swansea
In England, the results have been similar:
Healthpoint TV is a real asset for our group of pharmacies. Normally it has allowed us to market our various professional services and messages to the local communities, the benefits really came to surface when the Covid-19 pandemic started as we could display our warnings and messages.
Paresh Kotecha, Jade Group of Pharmacies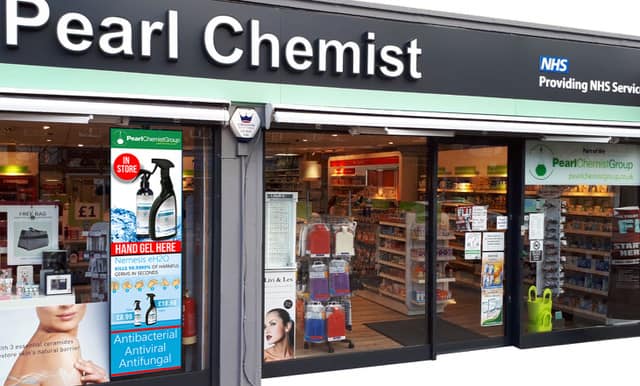 What is the best thing about Signagelive in your opinion? 
Melanie has worked with all the major pharma companies, all the relevant public health bodies in the UK/Ireland and companies in the health and beauty sector to produce content that is unique to each pharmacy and fulfils their needs.
The EPOS studies Healthpoint has carried out, plus the feedback received from customers clearly demonstrates a dramatic increase in counter sales and an uptake in the use of services. In other words, Healthpoint TV in combination with Signagelive drives sales and profits.
The functionality in the Signagelive CMS allows us to assemble specific playlists for specific stores that meet both the pharmacy and geographical requirements with minimal fuss.
None of this would be possible without the flexibility in the Signagelive system and the support we receive from the people at Signagelive. It is an ideal partnership. 

Our customers are all individuals each with a completely different set of needs. Signagelive allows us to cover all the varying requirements. Plus, the product is always evolving with the viewing of individual playlists, by the customer, a development that will be added by the close of third quarter 2020

John White, MD, Healthpoint 

One of the huge developments for Healthpoint TV is the installation of digital window screens that allows the pharmacy to dispense with window posters and provide up to date and relevant information in a modern informative manner. 

The Signagelive development outlined above will allow customers to view their playlist without having to stand outside and watch the whole playlist. This is a great step forward and typical of the Signagelive approach to reacting to customer needs.

In-store digital advertising in HD is the future of retailing and Healthpoint TV, with the assistance of Signagelive, is the leader in the pharmacy field.

George Baxter, Sales Director, Healthpoint 

Having worked with Healthpoint TV since they first started with our service, it's been great to see how they've evolved alongside the Signagelive platform in how they are able to deliver signage to their locations. Both our user interface features and Media Players have undergone a lot of enhancement since they first began and likewise our ability to support customers has also changed, with the introduction of Live Chat, Help Centre, Premium Support and self service; ensuring we continue to offer the best level of support we can.

I look forward to continuing the journey with them for more years to come in ensuring that our support continues to assist the great strides they are making.

Ian Maison, Director of Technical Services, Signagelive